Fruit of the Spirit
Fruit of the Spirit is a whole fruit puree rich in Anti-Oxidants and Alkalizing Minerals. 1-2 ounces a day supplies your body with the energizing and healing nutrients required for human health and vitality. This highly concentrated liquid is a unique blend of 16 super-fruits & herbs Hantive to the Holyland, including Biblical herbs Frankincense and Myrrh.
Fruit of the Spirit also has cleansing minerals from the Dead Sea and, a concentrated amount of Resveratrol was added. Resveratrol has been shown to have tremendous benefits in restoring our bodies and helping to prevent disease.
Getting your nutrients from food is still the best way to achieve and maintain your long-term health. But our fast-paced lives make it extremely difficult to eat well daily. One ounce of Fruit of the Spirit delivers the nutritional equivalent of 5 servings of Fresh Fruits & Vegetables with the convenience that you simply cannot replicate.
Dr. John Young of Largo, Florida, says "I've seen several products out in the market. None come close to Fruit of the Spirit. It delivers such a powerful dose of Anti-Oxidants and Alkalinizing Minerals for my patients while keeping sugar, carbohydrates and calories at very low levels."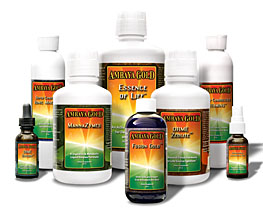 Affiliates
Since 1987 Mountain Rose Herbs has been known for its uncompromising commitment to organic agriculture and steadfast focus on the pure aesthetics and freshness of botanical products.Throughout all of these magnificent and developmental years we have always put an emphasis on conducting business in an ethical, responsible, clear, and ecological way; hoping to pave a medium for other blossoming green companies. During this time we have always found it in our nature to purport the advantages of organic agriculture, fund non profit organizations, contribute our time to numerous social and environmental groups, stay involved in community action campaigns, and develop cultivation programs for endangered botanicals. Yet, in the midst of these exciting and sometimes tumultuous times, we have always guaranteed our customers the absolute best in quality organic herbal products at very competitive prices
Ambaya Gold's unique ORME Zeolite Formula energizes and renews while safely removing Heavy Metals and other Toxins. It's a powerful, yet safe formulation built from the ground up to be much more than just a detox or chelation formula
ORME Zeolite supplies essential minerals, amino acids, enzymes, and other key ingredients which combine with the Zeolite to create a one of a kind Zeolite formula. It fuels and renews the body while safely removing the toxins that may be inhibiting your overall systemic function and health.